Summit Renews AEE Accreditation
Summit Achievement has just successfully completed our third, vigorous re-accreditation process by the Association for Experiential Education for Outdoor Behavioral Healthcare Programs and subsequently has been awarded accreditation for another six years! Summit was the second in the nation to be initially accredited in 2015, and is now the first Outdoor Behavioral Healthcare Program in the nation to have been re-accredited for the third time.
Why did we choose to be an Accredited Outdoor Behavioral Healthcare Program?
According to the Association for Experiential Education (AEE): "Attaining accredited status through the AEE Accreditation Program is solid evidence of an organization's commitment to quality and safety, belief in professional standards, and allocation of resources toward continued excellence and improvement."
Accredited Outdoor Behavioral Healthcare programs demonstrate to impartial reviewers that they operate above industry standards of ethical care, treatment evaluation, and risk management practices.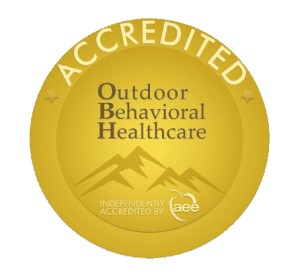 We believe that choosing to put the resources behind maintaining our accreditation status highlights our commitment to the families and referring professionals that we serve. For over 25 years, we have continually striven to be one of the best in the field.
The Process To Becoming An Accredited Program
During the AEE re-accreditation process, a team of outdoor education/adventure therapy professionals spent three days on campus, reviewing policies and procedures as well as interviewing staff and inspecting facilities. Summit has had three teams of different reviewers do this process with us.
The Outdoor Behavioral Healthcare Council has 22 members and Summit, (being one of the longest-standing programs), is one of 19 that has met the standard of AEE/OBH accreditation. We were one of the first programs in the country to become accredited by AEE/OBH, and remain the only AEE/OBH accredited program in the Northeast.
AEE/OBH accreditation adds to the many credentials we already have, including being licensed by the State of Maine as a residential treatment center since 1996. Additionally, our clinical team is made up of all masters-level, licensed mental health professionals.
We are also a Research Designated Program awarded by the National Association of Therapeutic Schools and Programs.
Our prioritizing the accreditation process and our commitment to maintaining our high standards creates extra work for our staff. We especially acknowledge our Program Director, Andrew Farris, who did an amazing job in helping us through this latest accreditation process.