Stories From Former Students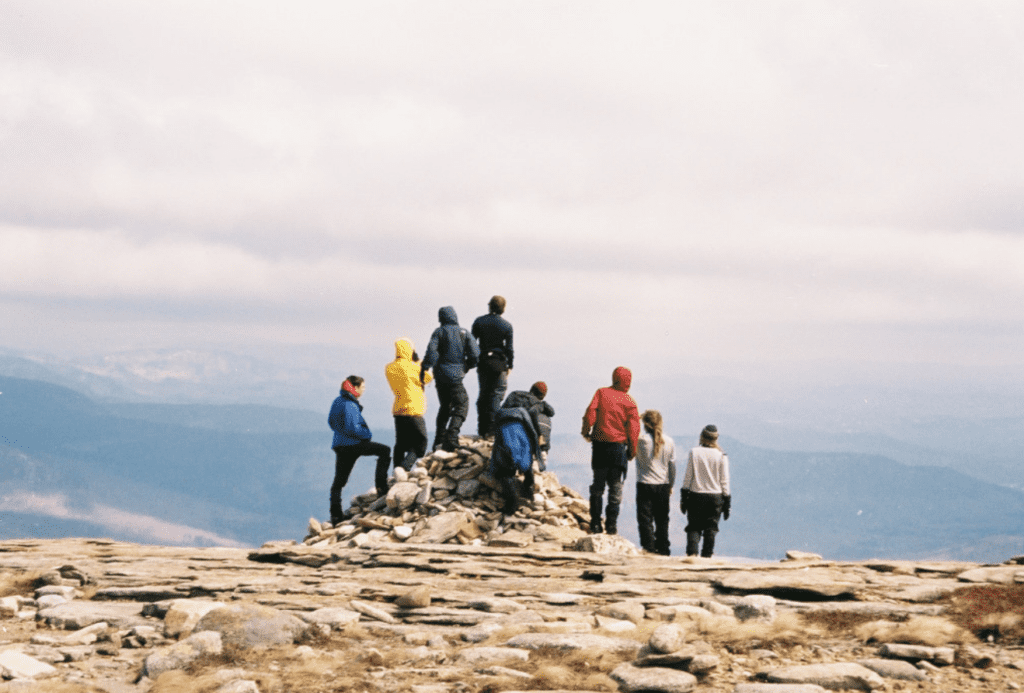 Stories From Former Students
Sometimes the best way to learn about a school or program is by hearing about it directly from alumni.
Summit Achievement was an experience that was equal parts rewarding and challenging, and resulted in the most profound growth period of my life. When I arrived at Summit I was anxious and scared. Throughout my first few days at Summit, all I could think about was that I wanted to go home. I wanted to be anywhere else. Once I made the decision to accept my situation however, I experienced growth, happiness, and serenity – none of which I had felt for over three years. This is not to say that Summit Achievement is easy. Though we walk through many state parks on Expeditions, working through Summit Achievement is no walk in the park. There will be moments where you want to be somewhere else, where you do not feel like hiking or going to class. But the reward for pushing through these challenging moments is helping yourself grow into the person you want to be, and to heal the wounds from the past. In order to experience growth and healing throughout your time at Summit you only need two things; perseverance and a desire to change. Summit will help to equip you with the tools to manage any experience you may face, as well as learning about yourself and your emotions. Choosing to face my fears and go to Summit Achievement not only saved my life, it set me on a path to find my own happiness and find work that I am passionate about.
While I was at Summit I was able to find a traditional high school that I applied to and was accepted. I started at that high school after I graduated from Summit Traverse, and was able to graduate from that school and continue on to college. I would not have been able to continue with school if it had not been for Summit, because Summit helped me learn about my own learning styles and develop the skills I needed to succeed in school. After college, I decided to return to Summit for a period of time as a guide. Summit was so impactful for my life that I wanted to help others have an experience similar to mine. To this day, I still view Summit Achievement and Traverse as the place that changed and saved my life, as a collection of dedicated people who devote their lives to helping others.
– Anonymous

I was lucky enough to be a student of Summit Achievement in 2004. Looking back, this was one of my most important experiences to shape who I am today. I was 14 and had difficulty coping with all of my family and school changes, along with creating healthy relationships. Summit allowed me an opportunity to "pause" my outside life and stressors and focus on myself, my healing, and identifying who I was as a person in this world.
The friendly residential competition of achieving summits gave us some drive to begin the process of working on making positive change. The guides and therapists taught me how to harness that drive for other things, including my own self discovery and healing. I can still remember my first expo, my first summit, and trying ice climbing. I can remember Nichol helping me train for my 5-mile run and planning my lead expo. Everything I learned from friction fires to identifying bird calls and animal tracks has stayed with me. They taught me how to gain my balance and center the chaos within myself by using nature.
The skills I learned to manage my anxiety, depression, and find self-motivation have carried me through my whole life since being at Summit. I created some lifelong bonds and still speak with other students from my cohort. Summit set me on my path to help others and I do so as a social worker every single day now. I left Summit with such a sense of pride and accomplishment. I don't have a single bad thing to say about it! Summit changed my life, for the better. I can't even imagine a more supportive, cohesive, and comprehensive staff and program. The fun I had on expo with my team and guides is honestly something I still talk about all the time. The bonds I made with other students have carried me even in my hardest times. Every part of me wants to tell the world how amazing this program is! So, go! Have fun, make friends, and find yourself!
– Anonymous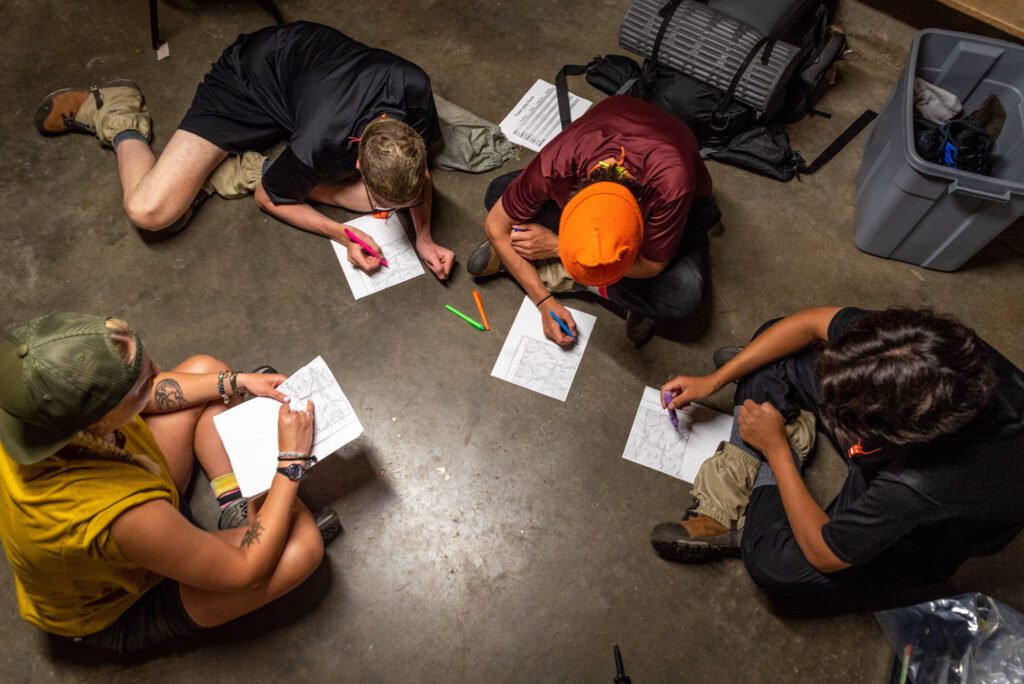 It was 5 AM when the LOD (Leader of The Day), watch went off. My teammates were all sleeping, as were the guides. I woke up my guide, Whitney, who maybe was hoping I would sleep in. We packed day bags and headed up South Bald Face, almost running, so we could get to the top to watch the sunrise. We should have got up earlier because by the time we were on the ledges, the sun was coming up. We opted to stay at the "knob" and hung out to take in the beauty of a new day. I don't remember what we talked about, I just remember that feeling of accomplishment and doing something challenging just for the experience. It was an incredible shared moment that I have never forgotten. And I would have never had this without the opportunities provided by Summit.
This happened over 15 years ago. 17 or 18 years ago, I was on a bad path.
Starting my freshman year of high school, I started using marijuana and dabbling in some other substances. My drug use led to other less than desirable behaviors. I don't think I was capable of telling the truth. I was stealing thousands of dollars from my parents for drugs. I was involved in situations that would scare me to death if I knew my daughter was doing them. And I [was convinced] didn't have a problem.
My sophomore year was more of the same, daily pot use, more experimentation, more dangerous situations. My best friend's mom caught us using pot and gave me the opportunity to tell my parents which I did, but it was a half-truth. Eventually more of the story came out, but I never fully confessed to my behaviors.
It was that summer that my parents enrolled me at Summit. I hated it. I was quiet and unpredictable. [I had a phone call] with my parents my first week, which ended terribly. My mom was screaming at me and I was screaming at her. Totally unproductive and didn't end with me getting out of the program like I wanted…. I think about it now, would I really have wanted to go? What would home have been like when I got back?
I was anxious for expedition. I was out of shape and was a daily smoker by the time I enrolled, and having to go hiking with this giant pack and the fear of looking weak in front of my peers was terrifying. As luck would have it, we were going canoeing. I had moments of sheer enjoyment while I was on "expo." It was the best I felt in a long time.
On Sunday when we got back, I had my first feedback circle. I was scared. I don't think I had ever heard positive or constructive feedback from my peers before and it was nerve wracking. It almost made me cry to hear that these kids I only met a week ago actually liked me. I had never felt so accepted and it was the corner I needed to turn.
I had many wonderful experiences while I was at Summit. I can't say there was much about the program I didn't like after I got over the hump. I'm sure I had gripes in the moment, but looking back, it was the one of the best experiences I ever had. I did have a problem. I relapsed shortly after Summit. I was in love with this girl and she introduced me to drugs worse than what I was previously doing. It went on like that for a while. I got arrested the March following my discharge from Summit. Some more bad things happened that I won't mention here, but it was because of my experience at Summit that I opened myself up to the help that I needed.
I went to another program, short-term, and I was finally honest about my experiences. I got clean at 17 years old and still am to this day. No pot, no alcohol, no nothing. Because I have a problem and keeping drugs in my life won't resolve it.
My substance use was more than just having fun. I was numbing my depression, my anxiety, my low self-worth. Was life worth living without substances? It was and absolutely is. Summit was the precursor for my journey through substance and mental health recovery. I have made a career from my mistakes in the best way I know. I help others who need help.
Being taken to the middle of the woods of Maine to live with strangers for a minimum of six weeks is scary. Having to do challenging work and be honest with yourself and family is scary. But the benefits outweigh the drawbacks. If you are scared as I was, as hateful towards yourself as I was, wishing you had someone who can understand like I was, then you have a golden opportunity to work on yourself and make a positive change. If my parents picked me up that first week, I would have robbed myself of one of the greatest experiences in my life.
– Anonymous