Summit Achievement Supports Sky's The Limit Fund with 8th Annual Adam Tsapis Hacker's Scramble
Summit Achievement is pleased to announce that registration is now open for the 8th Annual Adam Tsapis Hacker's Scramble! New this year, the scramble is a fundraiser for Sky's The Limit Fund, of which Summit Achievement is a proud partner. The golf scramble will be held on October 25th, 2023 at 10am in Portsmouth, Rhode Island. As with previous years, it will be held during the day before the Northeast NATSAP conference, which kicks off that same evening, making it easy for conference goers to attend the scramble.
The Adam Tsapis Hacker's Scramble is named for Summit Co-Founder Adam Tsapis, who passed away in 2015. Adam's legacy at Summit Achievement was the nineteen years he helped guide the organization in assisting the thousands of adolescents, families and staff who have been a part of our community. Adam's positive attitude and welcoming demeanor helped ease the anxiety of many throughout the treatment process. Adam is remembered for his ability to connect with others, his unconditional support to those in need, and his not-so-serious approach to golf.
In keeping with Adam's legacy, the 2023 scramble will raise funds for Sky's The Limit Fund, a non profit organization that gives grants to families seeking wilderness therapy from partner programs, including Summit Achievement. Summit and other partner programs match grants awarded by Sky's The Limit, often doubling the scholarship money available to families to help with the cost of treatment.
While serious golfers are welcome, being a serious golfer is certainly not a requirement! To register for the tournament or for more information, you can email lily@summitachievement.com.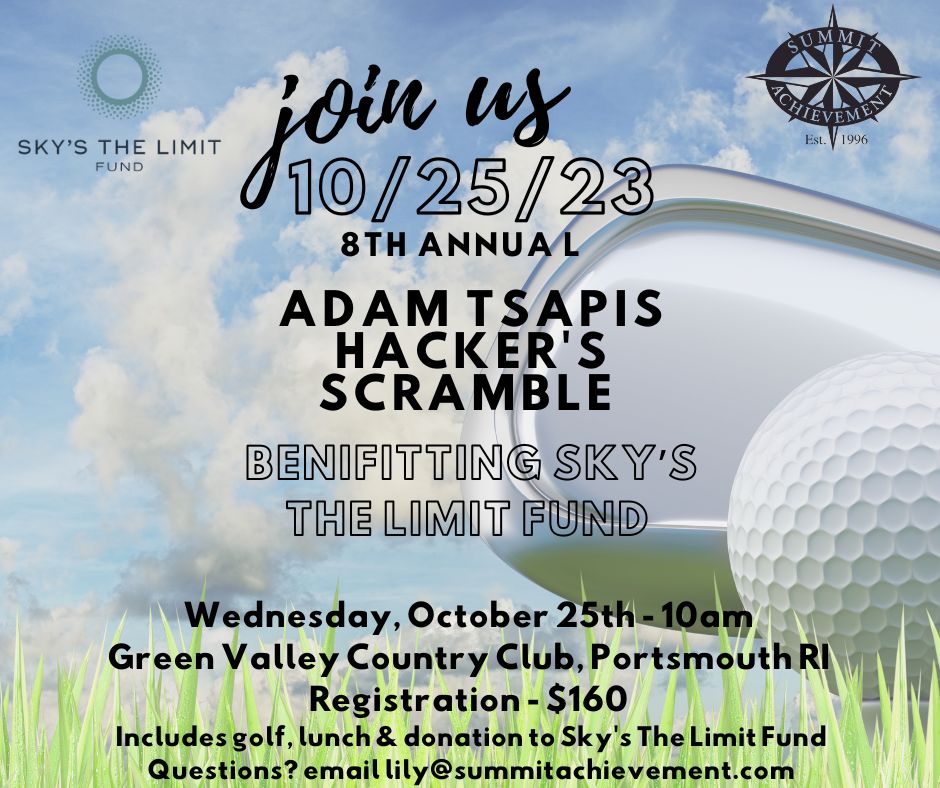 ---
Summit Achievement is, and always has been, guided by positive reinforcement and the power of choice. Our outcome-focused program is both a licensed Residential Treatment Center and an accredited boarding school. Our hybrid model allows students to experience the therapeutic benefits of outdoor adventure-based activities while also learning to manage the demands of a more traditional academic environment. An intentionally small, owner-operated, all gender program, we work with students ages 13-20, from around the world. We are located in Stow, Maine.