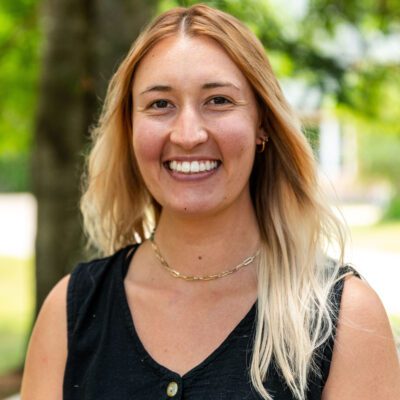 Shelley Wilson
BA, Field Director
Shelley grew up in West Hartford, CT where she developed a love for cycling and running, played field hockey, sang in many choirs, expressed her creativity through art, and reveled in trips to the beach with her family. 
As a kid, Shelley was thoughtful and curious, and spent much time reading, writing, and exploring. A pivotal moment for Shelley was when she went away to summer camp at Camp Jewell YMCA in Colebrook, CT. There she gained confidence and energy, and found great joy in the outdoors- swimming, climbing, hiking, camping, and sharing an affinity for adventure with those around her. 
Shelley studied Psychology at Fairfield University where she received her concentration in Behavioral Neuropsychology, and competed as a Division I Rower. After a tough Junior year, both academically and emotionally, Shelley went back to Camp Jewell where she found a reignited sense of purpose and vitality as a camp counselor leading backpacking trips along the Appalachian trail, canoe trips down the CT river, and a bike trip through Cape Cod. After graduating in 2018, Shelley went back to West Hartford and worked as a TA at the District School Engagement Program, and then at King Philip Middle School in the Intensive Behavioral Program. The following summer she received her Rocky Mountain Outdoor Educator w/ WFR certification from NOLS (National Outdoor Leadership School), and accepted a job as a Field Guide at Summit Achievement that Fall. 
In her work as a camp counselor and TA, Shelley found a true passion for developing impactful relationships with students and making a difference in the lives of the teens she guided. She was especially drawn to those teens who struggled both socially and emotionally, and who showed so much incredible growth through challenge, nature, and play. Intrigued by the multi-faceted structure of the program, as well as the proximity to her hometown on the East Coast, Shelley began her journey at Summit Achievement.
Shelley worked as a Field Guide at Summit for almost a year and a half, delving into the roles of logistician, medic, and team leader. Shelley then moved to the role of Field Director, where she provides oversight and guidance to both Achievement and Traverse programs, outfits students for expedition, conducts staff trainings in the field, and assists in direct crisis response. One of her primary goals in her job as Field Director is to bridge connections throughout the community, and implement more mindful practices with students and staff alike. 
Shelley moved from the ocean, living in Portland, to the mountains of New Hampshire. She prioritizes time with friends and loved ones, immerses herself in continued education in the field of psychology and neuroscience, cultivates mindful practices, and enjoys skiing, biking, hiking, reading, attempting to cook, painting, and yoga.