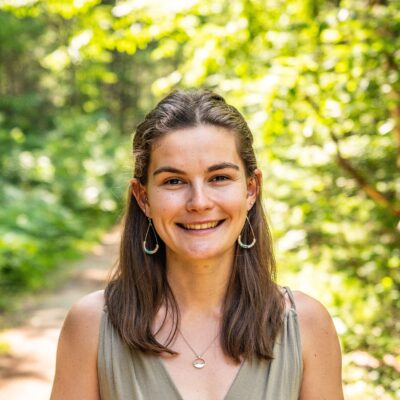 Olivia Del Brocco
LMSW-CC, Therapist
Olivia grew up in Worcester, Massachusetts, and spent her childhood roaming the woods behind her home. She also spent many weekends in central Vermont camping, swimming in rivers, and skiing. After graduating high school, Olivia went on her first backpacking trip, inspiring her future outdoor adventures. 
Olivia attended Skidmore College in upstate New York where she also competed on the crew team. While at Skidmore, Olivia took advantage of her proximity to the Adirondack Mountains and Lake George area. After graduating from Skidmore, she thru-hiked the Long Trail solo from the Massachusetts/Vermont border to Canada. Olivia then worked at a residential wilderness therapy program for girls in Virginia before earning her MSW from Boston College. 
Her experience with wilderness therapy in Virginia made Olivia seek out similar opportunities in New England. She is passionate about the role wilderness experiences play in building confidence and healing difficult emotions. Olivia joined Summit's clinical team as a therapist and looks forward to empowering youth from all backgrounds. It is important to Olivia that all individuals experience a sense of belonging and purpose, regardless of identity or life experiences.
Outside of work, Olivia can be found hiking or backpacking in the White Mountains and skiing in the winter. She hopes to gain new backcountry skills this winter in ski touring and mountaineering.