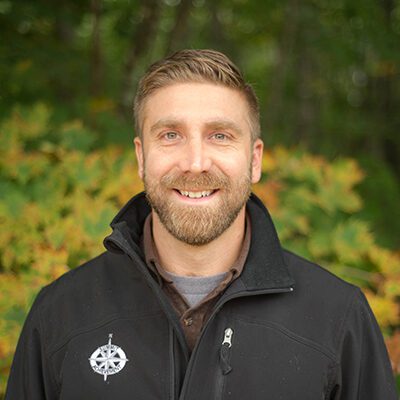 Mike Deluca
LCSW, Therapist
Mike grew up on the North Shore of Massachusetts where he spent much of his time playing sports and in the ocean. His earliest experiences with wilderness were often with his family on fishing trips or ski vacations in the White Mountains.
Mike attended Green Mountain College in Vermont for his undergraduate degree in Adventure Education.  While attending Green Mountain College, Mike completed a four-month National Outdoor Leadership (NOLS) Semester in Patagonia, Chile. This experience helped him hone his instruction skills and also ignited a love for international travel and wilderness. Before graduating college he worked as a mountain guide in the Jämtland Mountains in Sweden. Following graduation, Mike instructed with Outward Bound for several years. He worked with adjudicated youth at the Hurricane Island Outward Bound School before transitioning to the Thompson Island Outward Bound Education Center (TIOBEC) off the coast of Boston. There he worked with at-risk youth from the Boston Public School System. He received extensive training in diversity, inclusion, and cultural competence during this time.
Mike's work with Outward Bound led to exploring Wilderness Therapy programs. In the spring of 2008, he started as a wilderness guide at Summit Achievement. Mike worked as a guide at Summit for three years and developed effective skills for engaging youth in difficult conversations about their lives, their choices, and their relationships. In the spring of 2011, he traveled to Uganda and volunteered with the Bududa Learning Center, before starting his Master's degree in Social Work at the University of New Hampshire. After completing his MSW, Mike took a position working at a community mental health center in the Mount Washington Valley.
In 2018 he returned to Summit as part of the clinical team. He enjoys working with youth from all backgrounds and brings much of his experience from wilderness guiding and social justice into his practice. Creating emotionally and physically safe environments for young people to be vulnerable is important to Mike. He is particularly interested in supporting youth with emotional dysregulation, depression, and anxiety.
When not working, Mike continues to explore the backcountry. He is fond of canoeing when it's warm and backcountry skiing when it's not. He still longs to travel and see the world and is often daydreaming of the next culture and continent to explore. In the meantime, he's recently picked up fly fishing!
Listen to Mike's interview on the Stories from the Field Podcast!