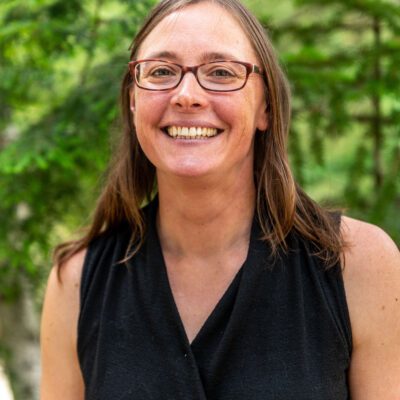 Kathy Peters
LCSW, Therapist
Growing up, Kathy had the opportunity to live in, go to, and eventually work in summer camps in multiple states across the country.  Through this experience, Kathy developed a love of the outdoors and a unique understanding of the power of group experiential learning.  Wanting to learn more about program development Kathy was drawn to Green Mountain College, obtaining a degree in Recreation in 2003.  She then completed a semester course through the National Outdoor Leadership School in 2003, spending 3 months in the Australian outback.  Shortly after returning home from that trip, Kathy found Summit Achievement and started work there in the role of Wilderness Therapy Guide.  Since then, Kathy has called Summit home on and off for years, accruing over 8 years of experience working in the roles of Wilderness Therapy Guide, Human Resource Director, and Therapist.
In 2007, Kathy went to the University of Vermont with a desire to learn how to better help the students she had been working with at Summit.  Kathy completed her Masters in Social Work in 2009 and became a Licensed Independent Clinical Social Worker in 2012.  She is currently licensed in New Hampshire, Vermont and Maine. In addition to her work with Summit she has also had the opportunity to work as a therapist at a community mental health clinic, act as Clinical Coordinator for both an intensive level residential treatment program for adolescent females as well as community-based services offering in home services for children and families, and act as School Social Worker for an elementary school.  Kathy has been certified in equine assisted psychotherapy through EAGALA since 2021 and is currently working towards her certification in EMDR (Eye Movement Desensitization Reprocessing) therapy.  In addition to her work with Summit she is also the Program Director and Mental Health Professional for Stable Connections, offering equine assisted psychotherapy and learning opportunities as well as individual counseling and consulting.
When not working, Kathy can be found spending time with her chickens and pigs, playing guitar, baking, listening to audio books, or making soap and other crafts.