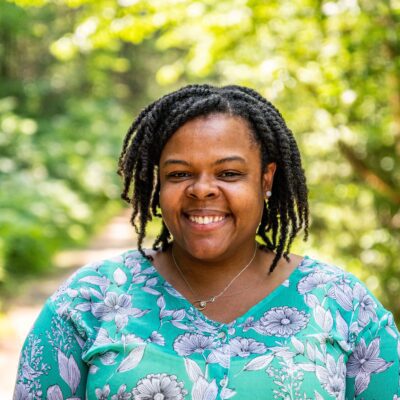 Christine Carter
BS, Field Director
Christine was born and raised on the Southside of Chicago, IL. Growing up as the youngest of 6 children, her freedom to imagine often encouraged her to wonder what life could be like off the beaten path of concrete jungles, skyscrapers, corporate rigmarole, and everything else that came with urban living. A charmed flowerchild, she was drawn to nature, the arts, and the idea of self-exposure to activities that discouraged alignment with the limitations that are placed on many inner-city youths. As a teen Christine was enrolled in the Upward Bound program at the Office of Special Programs-College Prep on the University of Chicago campus. This program solidified her connection to the sciences, higher education, and nature through her involvement with the Space Explorers Program at the Kavli Institute for Cosmological Physics and the Yerkes Observatory.
Christine went on to obtain her Bachelor of Science Degree in Biology, with a minor in Psychology from Bradley University in Peoria, IL. Through her education and career journey she discovered that she was most intrigued by what motivated people to be and do better for themselves, lead healthy lifestyles, create safe space for themselves and others, and positively influence themselves and others.  She has worked in many youth development capacities including mentoring, community outreach, coaching cheer, and teaching dance. While working for the Will County Health department at the height of the pandemic, she realized that she was dissatisfied with the stagnation that she felt, and knew she wanted to be doing more to help herself and those in the greater community.
In a moment of clarity, she asked herself, if she could be doing anything and not have to worry about resources, what would she be doing? Hiking was her answer. More specifically helping people through exposure to nature and creating healthy habits. Christine was keen on finding a place that would encourage growth, community, diversity, fun, self-discovery, adventure, and connection to nature. One job search for "hiking" and one cross country drive from Chicago to the East Coast later, the White Mountains and Summit Achievement became her new proverbial home.
Christine started working as a Field Guide at Summit Achievement in May 2022 and, after 8 months, Christine moved into the Field Director role in January, 2023. She is excited to be working with the team to develop and train new guides coming into the field, while helping to promote positive self-care culture within the community. Working with the teams to promote expeditions and weekend activities that are meaningful, fun, and safe is definitely a bonus.
Christine loves the outdoors and enjoys sharing that love with family, friends, and all members of the African American community. Her hobbies are ever developing, yet the things closest to her heart include traveling, spoken word poetry, hiking, yoga, dancing, singing, music, natural hair & skin care, swimming, cycling, crafting, interior decorating, cooking, fixing cars with her dad, painting, and staying connected to her tribe at home in Illinois. When she's not preoccupied with building new community in the Northeast, you can find her continuing to chase her goal of hiking at least one trail in all 50 States under the persona of "State Park Sh'Qwannuh".