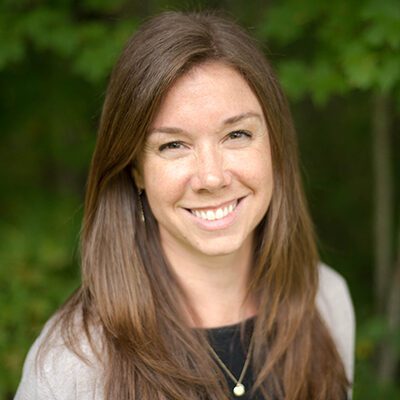 Caitlyn E. Cook
LCPC, ATR-BC, Therapist
Caitlyn grew up on Long Island, New York. Throughout her childhood, she could usually be found in the art room, barn, or out on the sports field.  She discovered the restorative quality of the wilderness early on while spending summers in the northwoods of Maine at her family's cabin.
As an undergraduate, Caitlyn attended the University of Rhode Island where she competed as a Division I pole vaulter and graduated with a degree in Communication Studies.  After working in the field of Interior Design for several years, Caitlyn craved the grounding effects of the woods and set out to hike the Appalachian Trail.  It was during this experience that she learned of Art Therapy and made the decision to pursue a graduate degree in the field.  Obtaining her Masters from Pratt Institute in Art Therapy and Creativity Development, Caitlyn focused on blending her passions for art and adventure. She is a Licensed Clinical Professional Counselor (LCPC) and a Board Certified Art Psychotherapist (ATR-BC). Through her graduate research, she stumbled upon Summit Achievement and its unique hybrid model.  Caitlyn was struck by how Summit was able to bridge the life lessons from the backcountry with the skills needed to thrive in the frontcountry.  While she had the immediate sense that Summit would somehow be a part of her own journey, the path there was indirect.  Caitlyn went on to gain valuable experience working with adults in a psychiatric day-treatment program followed by leading the creation and implementation of two art therapy initiatives in an intensive outpatient program for adolescents and individuals with eating disorders.  From there, she spent two years as an Expressive Therapist in a residential treatment center where she established and led wilderness therapy groups for adjudicated youth.
In 2014, Caitlyn decided to join the Summit team as a guide. She quickly transitioned into a therapist role when one opened up, and eventually became Clinical Director in 2018. Caitlyn specializes in designing creative interventions to meet the needs of each unique student and family, pulling from expertise in the areas of Art Therapy, trauma-informed care, Cognitive Behavior Therapy, family systems, and Internal Family Systems.
When she's not at Summit, you can find her spending time with her family on the lakes or in the mountains near her home just over the border in New Hampshire.
Hear Caitlyn speak to the Benefits of Wilderness Therapy for Young Women: