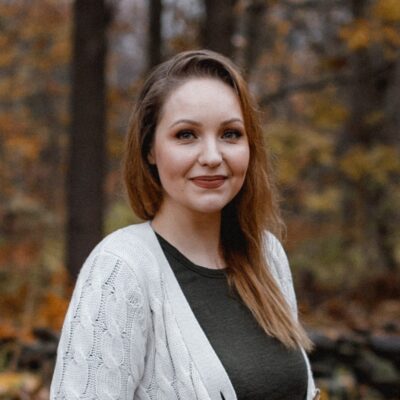 Ana Nadeau
BS, Program Nurse
Although Ana is originally from Almaty, Kazakhstan (her parents immigrated from the former Soviet Union when she was an infant), she was raised in the quaint town of Gray, Maine. Being the eighth child out of eleven (yes, she has six brothers and four sisters), she knew early on what it meant to collaborate, pitch in, and help those in need, and perhaps that is where her original spark to become a nurse stemmed from. In high school, she participated in indoor and outdoor track as a high-jumper and triple-jumper (she wasn't half bad), participated in math team, drama, key club, journalism, and other activities.
During her studies at the University of New England, Ana worked at Midcoast hospital as a CNA in the ICU. After earning her Bachelor's of Science in Nursing, she gained a repertoire of nursing experience, working in a multitude of areas–internal medicine, triage, home health, and most recently as a public health nurse for the state of Maine, where she specifically worked with the marginalized maternal and pediatric population, traveling all over the state. She worked together with child protective services, government-funded agencies, pediatricians, and local hospitals to provide the best physical and mental care during her home visits. The home visits that Ana conducted with these underprivileged families broadened her perspective on the immense lack of professional, compassionate, and emotionally intelligent mental health services available. At this job, an inkling of wanting to expand on adolescent nursing care and mental health led her to apply to Summit Achievement and Traverse in 2020.
Ana truly delights in her role at Summit and is honored to be the program nurse. She is able to utilize her skill set as an RN to thoroughly assess each student that enters through the doors at Summit. She takes great pride in educating, monitoring, advocating, and providing the best compassionate care she can with the student population. The all-encompassing care that each student obtains during their stay at Summit is something she has never seen elsewhere in all her other nursing roles. It truly is amazing!
Life outside of Summit for Ana entails a lot of something called "hygge" (pronounced "hue-guh"), with her husband and two small kids. She enjoys funny adult card games (What Do You Meme, anyone?) and is also in the midst of teaching herself the balalaika. Her absolute favorite place in the world is Peaks Island, and her own version of heaven would be if the Autumn season was year-round. If you know of a place that is like that, please reach out to her ASAP.